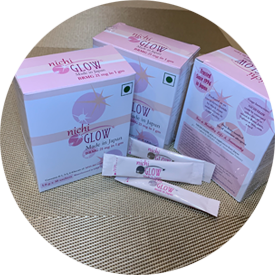 Nichi GLOW is one of the brands in the Nichi Glucan range of food supplements, a produce of AFO-202 strain of Aureobasidium Pullulans, a yeast, Which comes in a box of 30 sachet (each 1.0 gram of granule; 21mg Beta 1,3-1,6 glucan/gram). Contains none of the 28 ingredients, notified in the list of commonly known allergens.
Clinical study of Nichi Glow in children with autism spectrum disorders (ASD) after consumption for 90 days helped in improvement of behaviour and sleep with corresponding increase in serum Alpha-Synuclein levels and endogenous melatonin. When the fecal gut microbiome was evaluated, a significantly beneficial reconstitution was observed, proving that the Nichi GLOW B-glucans addressing one of the root causes, i.e., the gut dysbiosis.
Alpha-synuclein is a presynaptic neurotransmitter that plays a key role in the synaptic functions of neurons. The gut-microbiota axis is the connecting link wherein Gram-negative enteric bacteria such as the Enterobacter and Escherichia coli secrete the pathological curli proteins and amyloids that cause abnormal misfolding of Alpha-Synuclein, whose accumulation in the gut nervous system plays a major role in the pathogenesis and progression of the neurodevelopmental disorders such as ASD and in future may cause neurodegenerative diseases through the gut-brain-axis.
In the clinical study, consumption of Nichi Glow regulated bowel movement as reported subjectively and the metagenome evaluation of the fecal gut microbiome, revealed a beneficial reconstitution, especially a significant decrease in Enterobacteriaceae and E. Coli thus, demonstrating the health benefits of this Nichi Glow supplementation in ASD.
Publications of relevance:

Raghavan K, Dedeepiya VD, Yamamoto N, Ikewaki N, Sonoda T, Iwasaki M, Kandaswamy R, Senthilkumar R, Preethy S, Abraham SJK. enefits of gut microbiota reconstitution by beta 1,3-1,6 glucans in subjects with autism spectrum disorder and other neurodegenerative diseases. Journal of Alzheimer's Disease.1 Jan. 2022 : 1 – 12. doi: 10.3233/JAD-220388

Raghavan K, Dedeepiya VD, Kandaswamy R, Balamurugan M, Ikewaki N, Sonoda T, Kurosawa G, Iwasaki M, Preethy S, Abraham SJK. Improvement of sleep patterns and serum melatonin levels in children with autism spectrum disorders after consumption of beta-1,3/1,6-glucan in a pilot clinical study. Brain and Behaviour. doi: 10.1002/brb3.2750

Preethy S, Raghavan K, Ikewaki N, Abraham SJ. Qualitative Evaluation of α-Synuclein - A Critical Step in Unraveling the Complexities of Autism Spectrum Disorder. Med Princ Pract. 2022 Oct 29. doi: 10.1159/000527728.

Raghavan K, Dedeepiya VD, Ikewaki N, Sonoda T, Iwasaki M, Preethy S, Abraham SJK. Improvement of behavioural pattern and alpha-synuclein levels in autism spectrum disorder after consumption of a beta-glucan food supplement in a randomized, parallel-group pilot clinical study. BMJ Neurology Open- doi: 10.1136/bmjno-2021-000203
* Links to publications are posted for educational purposes only.
Nichi GLOW is a food supplement, not a drug or substitute to any drug or remedy to illness. No therapeutic claims; those who want to discuss about the clinical studies reported, may consult a physician.
Nichi Glucan range of products available in the brands, viz., Nichi Glucan, Nichi Glucan REFIX, Neu-REFIX, Nichi BRITE, and Nichi GLOW are free from any of the following notified common allergens listed as per the Consumer Affairs Agency, Government of Japan. (Japanese)
Shrimp, crab, wheat, buckwheat, egg, milk, peanut (peanuts), Almond, abalone, squid, salmon roe, orange, cashew nut, kiwi fruit, beef, walnut, sesame, salmon, mackerel, soybean, chicken, banana, pork, matsutake mushroom, peach, yam, apple, gelatin.
Disclaimer